Case Study – Tefen solution for maintaining healthy poultry farm
Maintaining optimal health conditions in poultry farm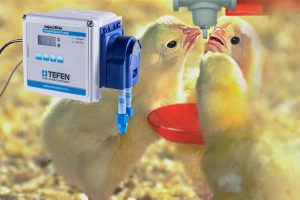 Poultry represents a significant amount of protein consumed in the average diet. The consumption of poultry has vastly risen over the years. As a result of the growing demand, poultry farms got bigger including hundreds and even thousands of chickens kept in congestion. Accordingly, farmers must pay close attention to the health of the chickens to prevent disease outbreak.
The key factors to ensure health in the flock is providing adequate nutrition and keeping the water source clean. Poor nutrition causes nutritional stress and illnesses. As for contaminated water source, it can cause to spread of illnesses throughout a flock. Accordingly, poor nutrition and water quality directly affect productive potential of the farm.
To prevent this situation and keep the chickens healthy it is important to maintaining the correct diet and keeping water quality which is a challenge that farmers deal with regularly.
Therefore, in order to maintain the correct mix of feed ingredients and water quality it is important to control monitor and adjust the process.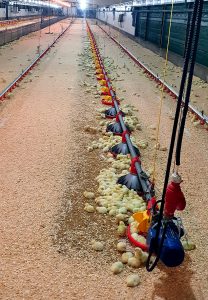 InjectRite – Tefen solution for maintaining healthy poultry farm
Tefen has installed 2 InjectRite peristaltic pumps in poultry experimental farm that tests and evaluates a wide range of applications including nutrition and water additives.
The farm contains 15,000 chickens divided into 2 reference flocks, each containing 7,500 chickens.
In order to make an accurate comparison and ensure that the amount of additive injected into each flock is similar 2 peristaltic pumps were installed on the site. Tefen peristaltic pumps are successfully operated for one year, completing seventh incubator.
The results show that Tefen InjectRite peristaltic pump provides reliable accurate dosing that can be easily applied with wide range of additive and chemicals.